Over the past month, local news outlets have spoken with President of Rogers & Willard, Mike Rogers, about downtown's latest community living development, Meridian at the Port. The apartment complex will be located on Water Street where the former Delchamps warehouse is currently located.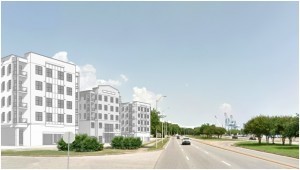 The development will be built on an unusually large, 4-acre lot. On the surface, the location for Mobile's largest downtown residential development in decades is an odd one surrounded by industrial business abutting the Port of Mobile. But for the developers and city officials, the $46.5 million Meridian at the Port is in a prime future location that could spur a renaissance on a street that Mayor Sandy Stimpson describes as Mobile's "gateway."
Water Street will see a much needed, pedestrian friendly transformation later this year, a plan that urban developers began in 2009 and one that many Mobile citizen and visitors are happy to see.
Meridian at the Port is described on al.com as a "264-unit project, which will be under construction this summer, will be the first large-scale apartment dwelling in downtown since the 148-unit Tower on Ryan Park was built in 1950. It's anticipated to draw up to 400 residents to studios, one-bedroom and two-bedroom apartments with rents that range from $1,000 to $1,800 a month."
The incentive to populate downtown also includes a budget for upgrades to utility and public structures and improvements on the existing facades.  "This will be transformative in our downtown in bringing in more high-quality residential stock," said Councilman Levon Manzie, who represents downtown. "We'll double the number of residences in downtown with this one project."